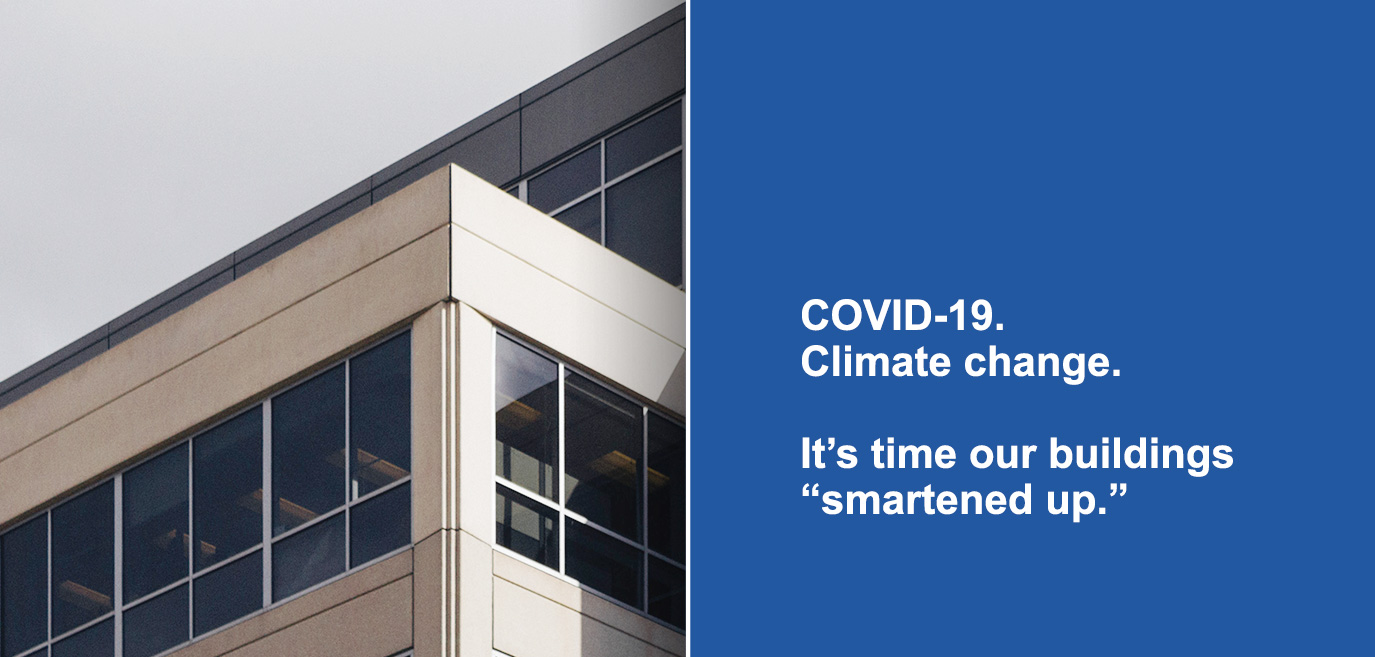 The building automation software and systems market is growing, projected to hit $20.5B in North America by 2027.
It's no surprise: the commercial real estate sector continues to embrace the operational efficiencies these systems deliver. What's better? Landlords can charge higher lease fees for buildings equipped with smart technologies while reducing operating costs. The ROI is worth it.
But beyond the tangible business benefits, two relatively new factors have sprung up, bringing a renewed sense of urgency to invest in smart-building systems. The COVID-19 pandemic and net-zero mandates are changing the way we look at buildings. And while these drivers aren't as clearly tied to a building's bottom line, building managers will need to consider them.
COVID-19
Recently, the COVID-19 pandemic has triggered the need for better air quality in buildings via smarter HVAC systems – specifically in schools. In other words, it's time to consider trading traditional heat sources for smart heat pumps and energy-recovery ventilators, all with the goal of keeping occupants as safe as possible.
On the flip side, the pandemic is reshaping the traditional workplace. There's been a reduction in office occupancy – a trend, for many businesses, that might not change, even as we return to "normal." As a result, building managers would be wise to ventilate based on demand, requiring a smart building automation system to do so.
But it's more than ventilation. Early into the pandemic, many building managers experienced a rude awakening in terms of energy consumption; tenants worked from home, yet energy costs stayed the same. Moving forward, as some employers continue with a dispersed workforce, building managers will need to reassess their equipment and controls setup to avoid overspending. (No one wants a hefty energy bill for a half-empty building.)
Climate Change
Where some are focused on energy, others are thinking about carbon. As the climate crisis heats up, building managers are facing increased pressure to invest in systems that slash greenhouse gases. And those already "committed" to going green are facing a higher level of accountability. Gone are the days of automating your building strictly to conserve energy. Where we once swapped electricity for natural gas, in short order we'll need to revert back, or at least adopt a balance, to drastically reduce GHG emissions.
But it's not a devolution. A bi-fuel strategy, for example, paired with a sophisticated automation system can offer the best of both worlds: you run your electric boiler when it makes financial sense and your gas boiler when it doesn't. It's a win-win – but it's only the start.
The challenge will be convincing decision-makers to invest in the necessary equipment. After all, the financial pay-off of using more sustainable energy sources isn't as appealing. But with shareholders pushing green agendas, and the costs of commodities surely to change over the coming decades, it's a sound strategy to help future-proof your building – not to mention the planet.
The Way Forward
In short, smart building technologies, like HVAC controls systems, play a critical role in helping optimize a building's energy consumption and operational costs. But that can't be the sole reason buildings embrace them. From COVID-19 to climate change, our world continues to evolve, and so, too, should our decisions around building systems.
At Envari Energy Solutions, we know that building owners who proactively address a changing landscape today will be well positioned for tomorrow. If you're interested in learning more about strategic building automation, visit our Building Automation Systems page, or get in touch to see how we can help.