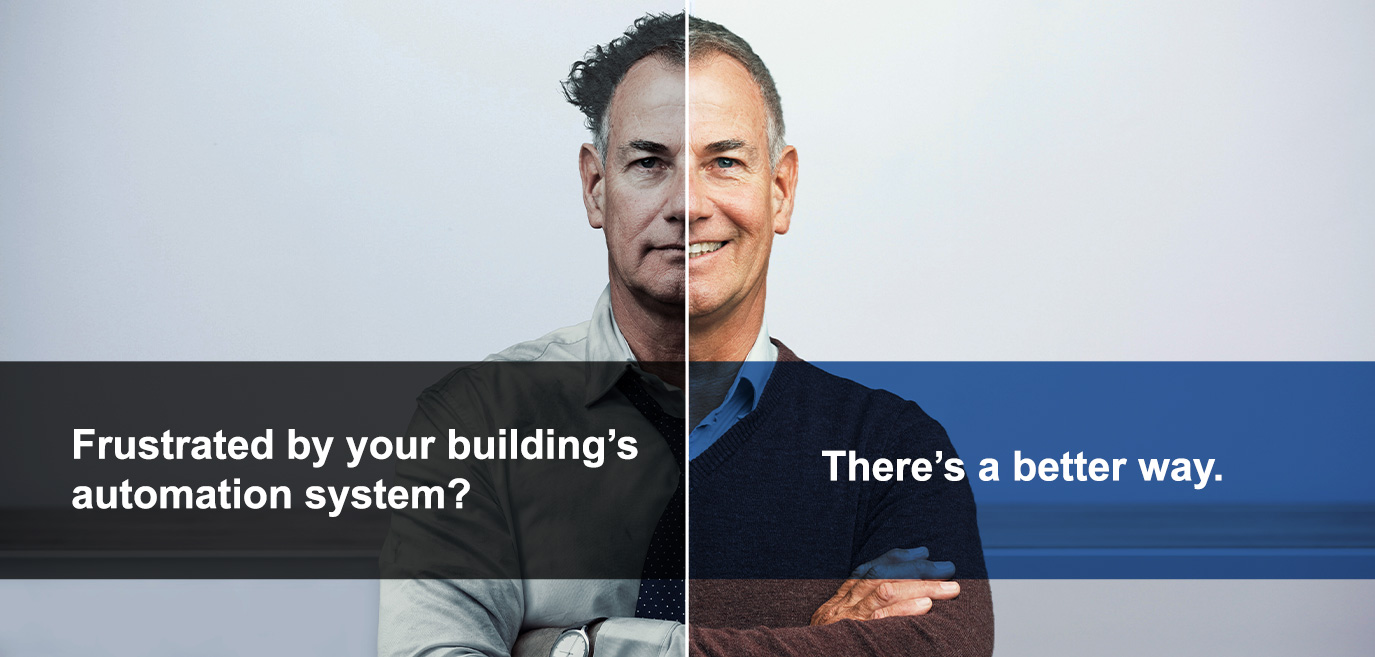 Today's building owners and operations managers can agree: a building automation system (BAS) is an infrastructural necessity.
Specifically, when it comes to an HVAC system – be it in a commercial, residential, or institutional property – a BAS can sync hundreds, even thousands, of unique points, from fan switches to temperature sensors to dampers, meters, and more. The result is a progressive, intelligent system that keeps HVAC equipment connected, communicating, and relaying the data needed to make smarter energy decisions.
Still, for all their benefits, some BAS solutions pose challenges, or put building managers at a disadvantage by leaving cost savings or efficiencies on the table.
Here's a closer look at how the industry has traditionally approached building automation systems – and what's missing from the equation.
Too many vendors, too many headaches.
When it comes to orchestrating a building automation system, there's no shortage of vendors on the market. Unfortunately, it takes two of them to maintain it – a mechanical contractor for the equipment and an automation vendor for the controls. This creates a disconnect in expertise and the overall efficacy of the system, not to mention painful service calls for customers.
Picture it: an issue arises that a building manager can't diagnose. They call their automation vendor as well as their mechanical contractor in hopes of finding a fix. On-site, no one wants to take responsibility. Without a single point of contact, that manager is then forced to navigate a situation chock full of finger-pointing, downtime, and unnecessary expenses – a headache for today's professionals.
In an ideal scenario, a building manager would have a single vendor for both mechanical work and controls. One partner and one solution – a simplified model.
Rigid relationships and costly contracts.
There's no sugar-coating it: a building automation system can be a big investment. But maintaining it shouldn't be.
The fact is, however, that this is where many automation companies make their money. By installing proprietary hardware, they guarantee a monopoly on all service calls, upgrades, and replacement jobs – often doubling or tripling the price of parts after a customer's initial installation, or marrying their customers to expensive maintenance contracts.
It's a dated model that leaves little flexibility. And for a system designed to drive cost savings, it's a sly trap that can chip away at your bottom line.
Conversely, a system engineered with technology-agnostic hardware would free managers to easily scale or repair components as needed. After all, it's not the hardware that makes the difference. It's how that hardware is programmed that truly moves the needle.
Products over partnerships.
Today, installing a system that effectively automates the tasks required to heat and cool a building is table stakes. The real value is in energy optimization. But too many controls companies adopt a one-size-fits-all approach to building automation, neglecting to build meaningful partnerships that prioritize energy savings.
It sounds obvious, but not every building consumes energy in the same way. Nor does every building have the same ratio of tenants – or the same lease requirements, for example. In other words, what works for some buildings won't work for others. And it takes the right expertise – the right advisor – to recognize these nuances, identify efficiency gaps, and make strategic recommendations to help conserve energy.
The good news?
At Envari, we know there's a better way to approach building automation. A more flexible, cost-effective way. We're doing it every day.
As both mechanical engineers and automation experts, we bring you one partner and one solution – one call for service. By using technology-agnostic hardware, we free you from costly contracts. And by approaching every project from an energy perspective, we work to create a solution that's tailored to your needs – always a partnership, never a transaction.
Whatever your goals – from energy management to greenhouse gas reduction to a more comfortable environment for your tenants – count on us as your single partner in solving your automation challenges.
Ready to get started? Visit our Building Automation Systems page to learn more, or contact us today for a complimentary consultation.