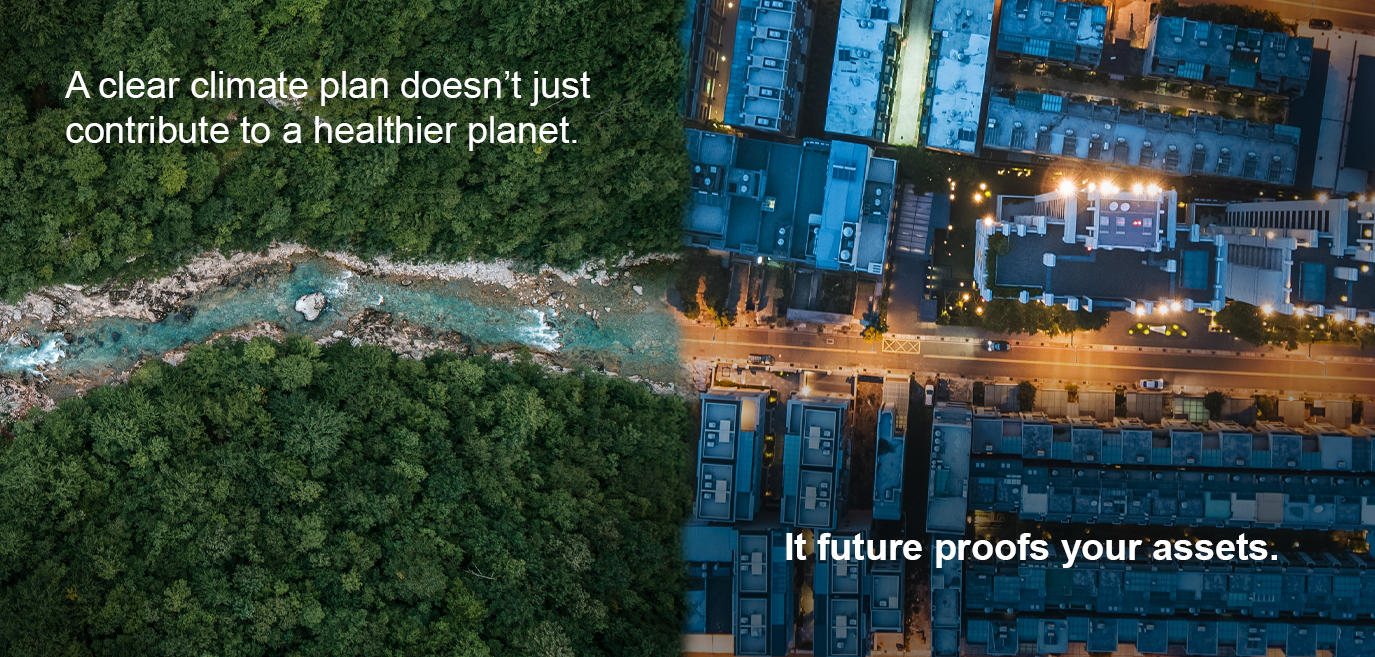 And your data is your advantage. Let's take a look:

That latest data from the Canada Energy Regulator states that Ontario's building sector accounts for 24 per cent of the province's greenhouse gas emissions – a significant driver of climate change.

Increasingly (and ironically), these same buildings are on the receiving end of the impacts; 35 per cent of real estate assets globally are now exposed to climate hazards. These include flood, hurricane, and typhoon risks. It's a vicious cycle.
Investors are taking note
It's no wonder, then, that commercial real estate investors are starting to see climate risk as a financial risk. It equates to higher insurance premiums and maintenance costs, not to mention an inevitable depreciation in value.

Worse yet, as the costs of natural resources rise, it'll become harder for less-energy-efficient buildings, most of them older, to meet emissions standards. It's only a matter of time before they become obsolete.

In other words, actioning a clear climate plan for your building(s) doesn't just contribute to a healthier planet; it future-proofs your assets. It gives you a differentiator with investors, and that can't be overlooked.

Fair warning, though: scrutiny is high. In many cases, investment firms have been speedier than legislators when it comes to holding real estate owners accountable to climate resilience. Fortunately, that's where your most powerful tool comes in handy.

Data is your competitive edge
When it comes to validating climate efforts, building owners and managers are finding data to be one of their most helpful levers. Better yet, being able to streamline data collection is freeing managers to spend more time strategizing optimization – be it energy-related or otherwise.
Nehla Krir, Head of Sustainability and CSR at BNP Paribas Real Estate Investment Management, said it best: "We must spend less time collecting data and more time focusing on managing buildings and integrating capital expenditure plans to adapt our assets for the changing climate." In other words: automate data collection and analysis and start taking action!
Key to this process is embracing new building technologies – of which there's no shortage. Software systems like energy dashboards, for example, automate and consolidate data collection. They facilitate faster, more accurate decision-making based on insights that matter. And they help maximize energy efficiency, which not only reduces GHGs but cuts operating costs. All of this equates to greater asset value.
The time is now
While some argue it's too intangible to assign a monetary value to climate action – it can't be ignored that investors and hedge funds are seeing the worth of these commitments. The race to net zero is on, and with it comes an opportunity to not only do what's ethically right, but to drive long-term portfolio value.

The built environment can be optimized for a greener future. We do have the tools and technology. We have the data, too, and data-backed Environmental, Social, and Governance (ESG) strategies will continue to take us further than we'd ever imagined.

As for building owners who pursue these greener pastures, well, they'll be rewarded; renewable energy resources, energy optimization, and, of course, the data to meet carbon targets will only gain traction as qualifiers among investors and buyers.


So, how green will your future be?
At Envari Energy Solutions, we know that building owners who proactively address a changing landscape today will be well positioned for tomorrow. If you're interested in learning more about Envari's Energy Dashboard, visit our website, or get in touch to see how we can help.