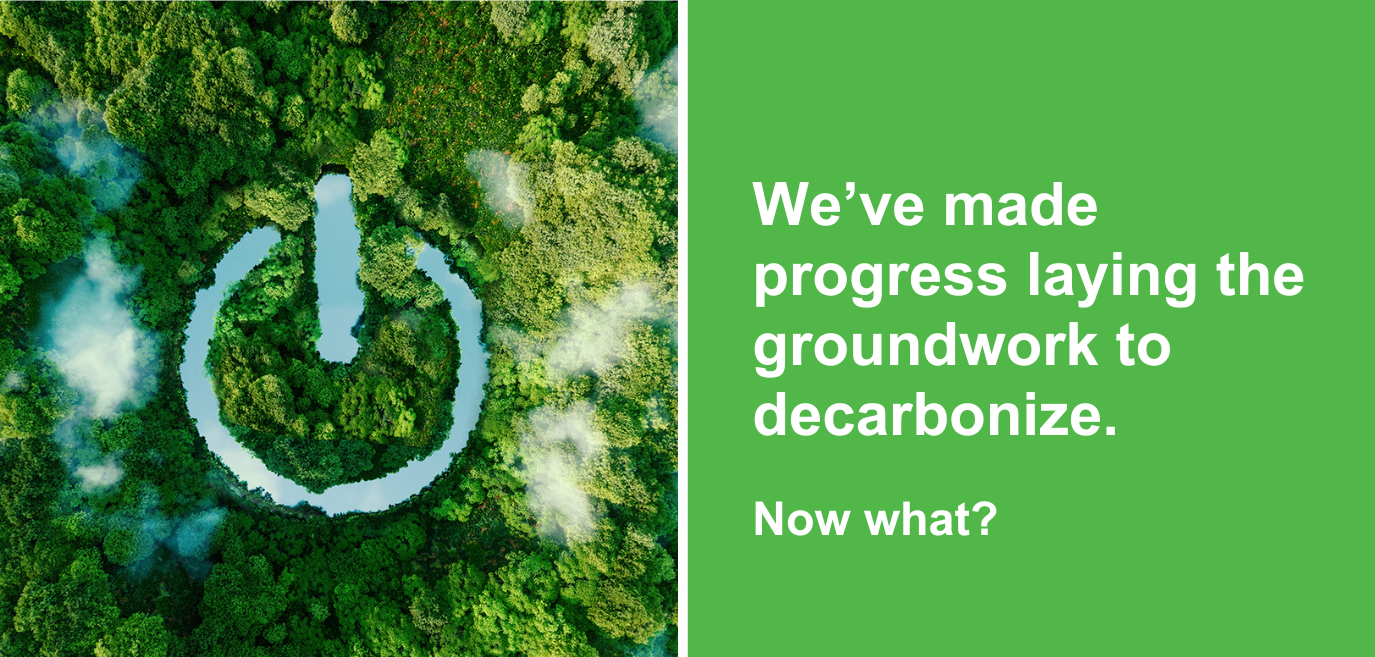 While 2022 saw its share of tumultuous events, from Russia's war on Ukraine to record-breaking inflation, the world showed up in spades to tackle one of its greatest threats yet: climate change.
Terms like "net zero," "carbon neutral" and "decarbonization" went from buzzwords to boardroom mandates, even as economical issues (and talks of a recession) fought for leaders' attention. Governments doubled down on legislation to mitigate the impacts of the climate crisis; and, by September 2022, 136 countries accounting for 83% of the world's carbon emissions had locked into net-zero targets. A promising trend.
As well, many businesses, including Envari, a subsidiary of Hydro Ottawa Holding Inc., made bold commitments to reduce carbon emissions. And data shows consumers made headway, too. In the UK, for example, electric car sales reached a record high despite a troubled supply chain.
In short, it's evident that governments, businesses and people are seeing the value in collectively fighting climate change.
Here are some recent highlights of top climate commitments:
Canada introduced the 2030 Emissions Reduction Plan, a roadmap to reduce carbon emissions by 40-45% from 2005 levels by 2030. The plan includes $9.1 billion in investments to cut pollution and grow the economy.
Canada also released its long-awaited National Adaptation Strategy. The strategy provides 1.6 billion in new federal funding and sets a common direction for protecting communities and preparing for climate events.
The United States passed the Inflation Reduction Act, the most significant action it's taken toward clean energy and climate change.The law will authorize almost $400 billion in spending with the aim of shrinking a weighty chunk of the nation's carbon output by the end of this decade.
The European Union continued to accelerate its Green Deal, a new growth strategy to transition to a more sustainable economy, with the goal of being the first climate-neutral continent by 2050.
India submitted its updated targets to reach net-zero emissions by 2070. The pressure's on for such a big emitter to do more, but it's a step in the right direction.
And, in November, Egypt hosted the 27th Conference of the Parties to the United Nations Framework Convention on Climate Change (COP27). The event concluded with an historic decision to operationalize a loss and damage fund for vulnerable countries hardest hit by climate disasters.
Smart investments for a smart grid
The recent 2023 federal budget announced new investments in Canada's electricity grid (generation and transmission).
One big takeaway for the electricity sector is the Clean Electricity Investment Tax Credit, a 15% ITC for clean generation and interprovincial transmission that is open to all, including non-taxpaying entities.
The budget also announced additional funding for the development of non-emitting electricity and supporting infrastructure to help maintain affordability.
In our own backyard.
At home, the City of Ottawa's new Official Plan was approved in late 2021. The plan details specific strategies and policies to cut emissions by 100% from City operations by 2040 and 100% community-wide by 2050. It's safe to say that we can expect to see some changes happening in our nation's capital.
Let's keep up the momentum.
Let's ensure our collective goal to fight climate change doesn't fall through the cracks. We've made progress laying the groundwork to decarbonize; now it's time to build on it.

But it's a shared responsibility. Every province, municipality and business has a role to play – be it implementing carbon pricing, funding new initiatives, electrifying transportation, or fuel-switching commercial buildings (which currently account for nearly 40% of global emissions).
This may feel like a daunting task, but it's more feasible than you'd think; more support is becoming available. Canada, for example, launched its Net-Zero Challenge last year to help businesses reach net-zero emissions by 2050. All companies are encouraged to join and benefit from technical guidance, best practices and a community of support. Companies like Canada Post, the Ottawa International Airport Authority, Carleton University, CN, Loblaws and others have already risen to the challenge.
In addition, grants, funding and incentives for cleaner ways of doing business are accelerating.
There's never been more information, support and funding available.
So, let's come together and turn our carbon commitments into actionable outcomes. The stakes demand it, and there are smart ways to do so. Let's learn from and support one another as a unified front and make 2023 a year of rolling up our sleeves.
Carbon-confused? We can help.
At Envari, we pride ourselves on helping our clients cut through the complexities surrounding climate change and carbon reduction. We work with cities, businesses and utilities to cut their carbon footprint by combining technology and critical thinking to drive innovative solutions.
If you're ready for change, we're ready to help.
Visit our website or connect with us and let's get started.